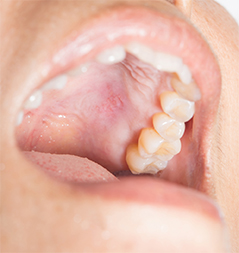 Our mercury-free fillings in Ocala restore your tooth rather than just filling. Schedule an appointment with the best mercury-free fillings dentist in Ocala today.
Unlike many dentists who use amalgam or silver fillings in their practice, we instead focus on the use of mercury-free fillings to provide you with the best quality dental care in Ocala.  Amalgam fillings contain Mercury, Tin, Silver and Nickel which allow decay to occur between the filling and your teeth.
The disadvantage of Amalgam Fillings
Another disadvantage of amalgam fillings is that the amalgam metal can contact and expands easily when it is exposed to cold and hot temperatures. This can eventually lead to a micro-leakage- a condition that happens when the amalgam fillings pull away from the tooth structure leaving behind space for bacteria to occupy and cause tooth decay. If micro-leakage is not treated on time it can lead to root canal.
Our holistic dentistry in Ocala specializes in the removal of silver or metal fillings and replacing them with safe and comfortable composite materials.
 What are mercury-free fillings?
Mercury-free fillings are tooth-colored composite fillings that are placed on your tooth to help restore the tooth that has been affected by decay, fractures or cracks. Mercury-free fillings are aesthetically pleasing and offer a long-term patient safety. They have bonding properties which help in restoring your tooth's form and function by reducing tooth decay.
Modern mercury-free fillings are designed to withstand chewing forces and provide a minimally invasive dental restoration. They blend perfectly with your natural teeth enabling you to create a beautiful smile you desire.
The mercury-free filling is completely safe for anyone whether you're a child or an adult.
We specialize in safe restoration of teeth using mercury-free fillings to enhance the integrity of your teeth structure and help you achieve the perfect smile you deserve.
Why Choose Smart Dentistry for mercury-free fillings?
At Smart Dentistry, we give your health and safety top priority. We offer a more individualized and dedicated mercury fillings removal dentistry that aims at ensuring your comfort and safety at all times.
Our dentists are specially trained to offer safe removal of amalgam fillings and replace them with the more attractive composite fillings. We use the latest techniques and materials to restore smiles of our patients.
When you come to Smart Dentistry for mercury-free fillings dentistry, expect to be treated with respect and high level of care. With our friendly and compassionate staff, you can rest assured that you're on safe hands.
Our top-rated dentists are keen to discuss your dental care needs in Ocala.  Call us at 352. 620. 0093 to have one of our doctors examine your teeth and perform mercury-free fillings today.