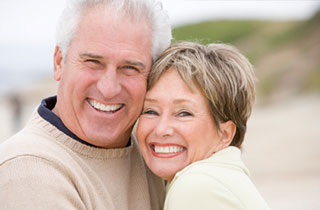 Dentures are the solution for those who need to replace lost teeth due to various reasons such as traumatic injury, periodontal disease and tooth decay.
Patients who do not address missing teeth with dentures could result in a shift of their remaining teeth, sagging facial appearance and will be unable to chew and bite. Dentures result in improved chewing ability, speech and appearance.
About the Procedure
We examine your bone structure and gums to diagnose the correct procedure for your teeth. Our next step is to make an impression of your gums in order to mold every crevice and ridge resulting in the best fit possible.
Dentures are placed when your gums are healthy and healed to ensure that your dentures will replace your upper and lower teeth for a lifetime.
Modern dentures are custom designed for the function and comfort of the patient. Today's dentures duplicate real teeth like never before, thus enhancing one's facial appearance and beauty of their smile.
Comfortable Dentures that look Natural
Read Tabitha M.'s review of Smart Dentistry on Yelp
Read Michael F.'s review of Smart Dentistry on Yelp
Contact our office, call us @ 352.620.0093 or fill out our online form, for a consultation today! We design all of our dentures to provide a custom fit that looks natural and feels comfortable.