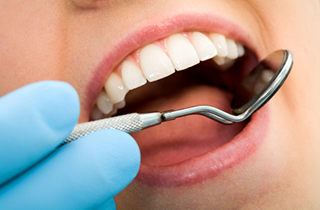 Mercury-free fillings can be used to restore most kinds of tooth damage, including cracks, fractures, and decay - after removing the infection. These tooth-colored composites not only offer long-term safety, but are also virtually undetectable and blend perfectly with your teeth, giving you a natural smile.
Read Tabitha M.'s review of Smart Dentistry on Yelp
Read Michael F.'s review of Smart Dentistry on Yelp
Previously, patients opted to have amalgam fillings in their back teeth because it's stronger and more durable than tooth-colored materials. However, modern mercury-free fillings are extremely tough, and can withstand chewing forces just as well as amalgam fillings. Moreover, tooth-colored materials offer a minimally-invasive restoration.
Exposure to Mercury
The main exposure to mercury from dental amalgam typically happens during placement or removal of the fillings. This means that it's not necessarily a good idea to remove amalgam fillings and replace them with composite material, unless you're doing it for medical reasons or allergic reactions. Keep in mind that patients are still exposed to mercury that is released through normal wear of the filling, but to a minimal extent.
Patients are mostly exposed to mercury by inhaling its vapor, since there's very little absorption via ingestion or skin contact. When the vapor reaches the lungs, it's absorbed in the blood and spread to the whole body, and then slowly excreted.
Inhaling very high concentrations of mercury can lead to:
Pneumonia
Bronchitis
Muscle tremors and other problems affecting the central system
Kidney problems - due to long-term exposure
Allergic reactions of the gums and skin inside the mouth
Alternative tooth-filling materials
Modern restorations are increasingly using tooth-colored materials with different compositions and properties. These include composites (like resins and ceramic), cements, and sealants. Other mercury-free alternatives include glass ionomer, gold, and other metal alloys.
However, most dental patients prefer tooth-colored composite fillings because they produce the most natural look. Other benefits of mercury-free fillings include:
Minimally Invasive
Long lasting
Fast Repair Process
Help to prevent caries
Easy to repair damaged mercury-free fillings
Focus on your health and safety
For mercury-free fillings that restore both the function and aesthetics of your mouth, please call us at 352.620.0093 or visit Astrid Sand, DDS in Ocala, 34471 for a free consultation.